Page Views: 248
Email Post
Print Post
Changing scenes from Colombo Fort to Jaffna
N. Senthilkumaran takes an 'armchair train ride', a compilation of many trips made in the 1980s and early 1990 from Colombo Fort to Jaffna/Kankasanthurai (KKS) on the Yal Devi
Colombo Fort Station; 5.30 a.m.
In the pre-dawn darkness, I move past the ticket checker and look for the platform from which our train, the Yal Devi, will depart. Announcements ring out in Sinhala, Tamil, and English through a tiny speaker system which makes all the languages sound the same. A male voice drones out the never-ending list of stations.
I am now at the correct platform. Our train consisting of nine empty carriages thunders in from the Maligawatte yards.
But even before the empty train comes to a halt, people are already scrambling aboard to get a seat, preferably a window seat nowhere near the malodorous toilets in the middle of the coach. Young boys in the family are brought along specifically for this task as they can hop in through the windows and 'reserve' seats for their older, less-agile relatives. (Thanks, thamby!)
Most of the passengers are Tamils heading back to their homes in the north of the island. But, apart from a smattering of tourists with backpacks, there are also Sri Lankans of all races: families on holidays, young men returning from their jobs in the Arabian Gulf laden with gifts for the family, and government servants going on leave.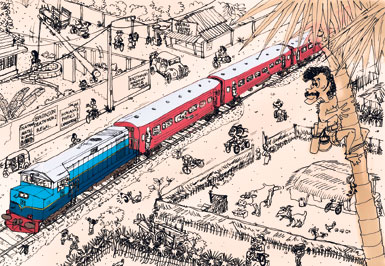 Well-wishers, having helped with seat-finding and luggage loading, usually disembark now. But there is a breed of macho men who insist on hopping off only after the train has started moving – despite pleas from their passenger friends to desist. Suddenly the Station Master blows his whistle, a bell is rung, green flags are waved, the driver gives a long blast of the air horn and with a jerk we are off! Much waving of hands out the open window. "See you. Bye. Thanks for putting us up. Come to Jaffna. I'll put a call when I get there."

Northeast to Polgahawela

Dawn is breaking as the train accelerates through the yard, past commuters on the platforms at Maradana station, on through the yards and past the locomotive sheds at Dematagoda. As the driver accelerates on the double-track stretch to Polgahawela, we meet trains running in the opposite direction on the adjacent track; the Colombo-bound night mail from Jaffna, the Mannar night mail and commuter trains.

Polgahawela Junction. A stop of a few minutes. More passengers embark, a few disembark. This is the junction of the main line into the hills and the line north which we shall be taking.

Kurunegala and Maho

From here to Kurunegala the track winds its way through coconut groves and beside houses, against a backdrop of lush green countryside. Speed is limited by the curves. The ballast (small rock stones) between the track sleepers is so minimal, and the grass so lush, that looking out of the window and ahead of the loco, it seems as if the train is running on grass and not on rails!

Young Sinhalese men break into a spirited baila. The clickety-clack of the train on the rails gives them a basic rhythm to work with. More percussion is produced by drumming hands on the tops of suitcases, plastic buckets, etc. The enthusiasm of the makeshift band is evident, and soon many small children are tempted to dance, stopped only by the stern stares of their parents – who pretend that their own feet are not actually tapping and keeping time.

After passing Kurunegala, the countryside is slowly becoming drier and not so green. People on the train are busy with breakfast which they may have brought from home, wrapped in banana or lotus leaves, or purchased from vendors on board the train. Others are saving themselves for a treat at Maho which is a junction for trains heading to the east of the country. As soon as the train halts it is invaded by a welcome army of vendors, selling mee-pani: yoghurt produced from buffalo milk, served with kitul treacle in the earthen bowls in which the yoghurt has been allowed to set. A blissful treat in the morning heat.

Rajarata – Land of Kings

From Maho, the train proceeds northward. Galgamuwa is a typical rural town with ribbon development, buildings stretched along either side of the main road. We pass the occasional freight train on a siding at stations.

The train races through Tambuttegama, Talawa, then the neatly-planted island platform of Anuradhapura New Town, before braking for the stop at Anuradhapura at around 10 a.m. As Anuradhapura is the midpoint of our journey, this is where we will meet our counterpart train, the Colombo-bound Yal Devi.
A single man turns the turntable at KKS

We halt here for about ten minutes. But if we had to wait for the down train, the stop would be longer. The engine driver gets down to stretch his legs, maybe buy a packet lunch or have a snack. A larger number of passengers disembark here. Western tourists alight to see the ancient Buddhist ruins, while others who have finished their sightseeing board the train to see the sights of Jaffna. Presently, the driver gives a long blast on the horn. This brings passengers who were in the station canteen or lounging around the platform, running back to the train. We are off again.

Once, I was travelling from Colombo to Jaffna on the night mail on a Poya day. Around Anuradhapura, I was looking out of the window, enjoying the cool breeze. The full moon was casting its light on the paddy fields, and I could easily see the dark tree line beyond. Suddenly, as though rising out of the trees, was a massive dagoba glowing in the moonlight –a truly awesome and magical sight that will live with me to the end of my days.

Velocity in the Wanni

We are definitely in the drier part of the island now. There is still plenty of vegetation, but it is more sparse and brown compared to the area south of Kurunegala. Our next stop is sleepy Medawachchiya which comes alive at night when the night mails connecting Colombo to Mannar are operating. These trains branch off here and head to Talaimannar for the ferry across the Palk Strait to Rameswaram in South India. Many Indians used this route during its heyday, but this also fell victim to the Eelam separatist war and the service was suspended.

We leave Medawachchiya and move onward, ever northward. Travelling along this stretch in 1990, I purchased a carbonated soft drink from a young boy who attracted much attention and quiet respect on board the train. This remarkable lad, who will always remain in my mind, was about 12 to 15 years old. Nothing unusual about that – except that his right hand had been amputated just above the elbow. Quite cheerfully he was selling his drinks, opening bottles, collecting his money, and giving out change – all with one hand. His technique of thumping the base of the bottle on the vinyl floor to make the contents fizz and pop the cap off the bottle was both practical and entertaining.

As Vavuniya is an administrative and business town there is a small flurry of activity as passengers board and leave the train. It's a short halt and we are off again through the scrub jungle of the Wanni region. From now on until Chavakachcheri the tracks run parallel to the A9 highway, the Jaffna–Kandy road. From Vavuniya to Killinochchi there is only a small gap separating the train from the highway, but the scrub jungle blocks our view of the road and it seems as though we are travelling through the middle of a no-man's land.

Most of the passengers are tired by the heat as it is now late morning, and the sun is streaming into the coaches. Some doze off. The Sinhalese baila boys have long since left the train, and the remaining Tamils are too self-conscious to break out into song. So it is quiet inside the carriages. Great clouds of dust accompany the train. Although this is jungle, the noise of the train scares away any animals.

Next come Puliyankulam and Mankulam. These names reflect the large irrigation tanks of the region. Mankulam is a small station, a brief stop. The town, a junction for roads leading in four directions, can be seen from the train. Just a few straggly buildings. On to Murikandy from where the stretch to Killinochchi is the straightest track and speeds are high. On this section, some drivers take advantage of the straight track and long distance between stations to have their lunch, probably a packet of rice and curry purchased at Anuradhapura.

We blast in to the halt for Killinochchi, a fairly large town by Sri Lankan standards. Apart from numerous sidings, there is a large godown (warehouse) for the agricultural produce that comes from this area. Now we can see the A9 Jaffna–Kandy road to our left. We depart, and a few minutes later arrive in Paranthan, which is the road junction for Mullaitivu in the east. There are many tractors on the road. We are off again, soon to pass the giant Paranthan Chemical Works rising out of what is now sandy flat land, with hardly any trees.

Elephant Pass and Jaffna

The sandy wastes get broader and then we see the narrow-gauge tracks of the railway serving the Elephant Pass salterns. The latter comprise a few rusting sheds and piles of white salt, some covered by cadjan branches. Then we are on the Elephant Pass itself – a narrow strip of sand carrying the railway, the A9 highway, and not much else – linking the Jaffna Peninsula to the rest of Sri Lanka. The geographic change is sudden: open, blue skies, a few snow-white egrets flying across the blue waters of the lagoon. If you look down, you will see signs of gleaming white salt washed up against the land. The run over the pass lasts a few minutes, then we race past the Army/Police road checkpoint, and we are finally on the peninsula, with thousands of palmyrah palms as far as the eye can see. A sharp and long curve to the left brings us to a northwesterly heading.

The passengers in the train really come to life now; they feel as if they are already home. Jaffna! The first stop is Pallai, a small town. Moving off from here we see that the Jaffna area is densely populated although we are now travelling through one of the least inhabited parts. There are houses in abundance, built from either brick with tiled roofs or mud with cadjan roofs. These houses are always surrounded by a boundary fence or wall. These demarcating fences, which are sometimes described in survey plans as 'live fences', are really alive! They are usually made by planting a row of thorny trees along the boundary line, then linking the trees with barbed wire or by stacking the base with palmyrah fronds vertically.

The bicycle is king here, the flatness of the terrain encouraging the use of bikes, so not only will you see many examples but along the roadside numerous cycle repair shops.

Eluthumadduval and Mirusuvil are passed at express speed, the train stirring up dust and sand on their deserted platforms. Suddenly half the train is all elbows, as people comb their hair and retrieve their bags from the overhead racks in readiness for Kodikamam, a small town, which is an important road junction with the road to Point Pedro. People heading to Vadamarachchi disembark from the train to board the waiting hiring cars and minibuses. It is past 1 p.m., so most of them will be heading home for a hearty lunch. At Kodikamam we may meet the Colombo-bound Uttara Devi, which left KKS at noon. The train that arrives first pulls into the platform to enable it to take on passengers, before reversing onto the siding to allow the other train through.

We leave Kodikamam running due west now, straight to Jaffna. There are numerous ungated level crossings, so the horn is sounded more often. Express through the halts at Meesalai and Sankathanai, past the Chavakachcheri Hindu College with its sandy grounds and walls plastered with posters for cinemas and private tuition centres. The latter is a big industry, with some tuition masters as famous as film stars in education-hungry Jaffna. Just the teacher's name, the subject taught, and the tuition centre's name are hand-painted onto the posters, often printed in garish colours. So you would see things like 'Naganathan, Chemistry, Bond' (tutor, subject, centre) next to 'Charles Bronson, Death Wish III, Regal' (actor, movie, cinema).

Its horn blasting, the train veers away from the road, passes behind the market, and into the stop at Chavakachcheri station. To our left are open paddy lands, and these will dominate the scenery as we continue west to Navatkuli. Brahminy kites lazily circle the skies.

Departing Navatkuli, we traverse a steel bridge over a lagoon inlet, picking up speed. Now we are entering the suburbs of Jaffna town itself. A few shacks under palmyrah groves give way to brick houses and masonry walls with more posters.

School is out , hordes of children in starched white uniforms rush home on their bicycles for lunch. Youths on the trains wave to the passing teenage schoolgirls, who seemingly ignore them. Rolling past the gated Kachcheri crossing, past Temple Road, the train slows, air brakes hissing, for the halt at Jaffna Town.

We pull into the platform and people are off the train before you can say "Jaffna". Most of the sleeperette crowd get off here. Taxis, buses, hiring cars – the ubiquitous 'Jaffna Austin' A40 Devons, Somersets, and other types all in good condition – trishaws, and even young boys on bicycles willing to take you to your final destination. The train driver gets off to ease the stiffness from his legs and talk to the Chief Station Master, then buys a newspaper before climbing back into the cab. A handful of people board the train, mainly schoolchildren.

Home stretch

The Jaffna stop doesn't take very long and with a long blast of the horn we are off on the final stretch. As the driver notches up the throttle we pass over the gated crossing at Point Pedro Road, then enter the sharp curve at Manohara Cinema. The throb of the diesel exhaust echoes off the cinema walls (and can be heard inside the cinema too!). We swing 90 degrees and are now heading north again.

This is the most densely populated part of Jaffna Peninsula. More level crossings, past the University of Jaffna campus buildings behind the science faculty. The girls' hostel near the track always attracts a lot of attention from train crews. Waves are sometime exchanged. Several university students alight at Kokuvil station.

Moving on down the gradient, around the curve, past the signal next to the Nandavil Amman Temple, and into the platform of Kondavil station. Kondavil has a few sidings, a warehouse with a platform, and large Food Department warehouses for dry foodstuffs next to the station.

Passing these sheds we continue north over the gated crossing, into tobacco fields, past Inuvil station, then a palmyrah grove before Chunnakam station. This is a market town whence roads lead to the extreme west of the peninsula. The railway sidings are usually occupied by tanker wagons carrying heavy diesel for the generators of the nearby power station. We move on through thickly populated areas; fences and walls abound; Mallakam and Tellippallai, home to many academics; more palmyrah now; the clay soil red and fertile for chillies; and a multitude of banana plantations.

The train is lighter without the bulk of its passenger load, and the driver is impatient to reach journey's end, so it seems we are rolling much faster. Past Maviddapuram with its old temple, as a branch line spurs off to the KKS Cement Factory, and we are slowing for our destination, around the curve into the station and yard at Kankesanthurai (KKS), 256 miles (412km) from Fort. The time is just after 2 p.m.

After the train comes to a halt at the single platform, the assistant driver is already uncoupling the locomotive as the last passengers get down and the guards walk to the stationmaster's office to sign off. The driver moves the loco slowly to the turntable and stops there while it is turned (by one man, by hand!) before moving back down the yard and into the brick locomotive shed. Presently the locomotive will be serviced in readiness to take the night mail back to Colombo later this evening.

Bags collected, the driver and his assistant walk the short distance across the yard, past the turntable to the running bungalow to enjoy a cool bath at the well, a spicy Jaffna prawn curry and, now that they are off duty, maybe some fresh palmyrah toddy. Drivers enjoy these little perks at KKS, not least the fact that from the time they sign on at Dematagoda to the time they go off duty at KKS, they have accumulated about two hours of overtime – more if the train is late.

With the running bungalow (crew quarters) close to the beach, an evening walk is a good way to enjoy the fresh air, before getting an early night so that they are up early tomorrow morning to take the down Yal Devi back to Colombo.

As a star-studded night falls, for the train crew a clean bed in the running bungalow, the whisper of palmyrah palm fronds rustling in the breeze, and the rolling of waves on the nearby beach promote sweet dreams of delightful Devis, Menikes,and Kumaris…

Source: Sunday Times